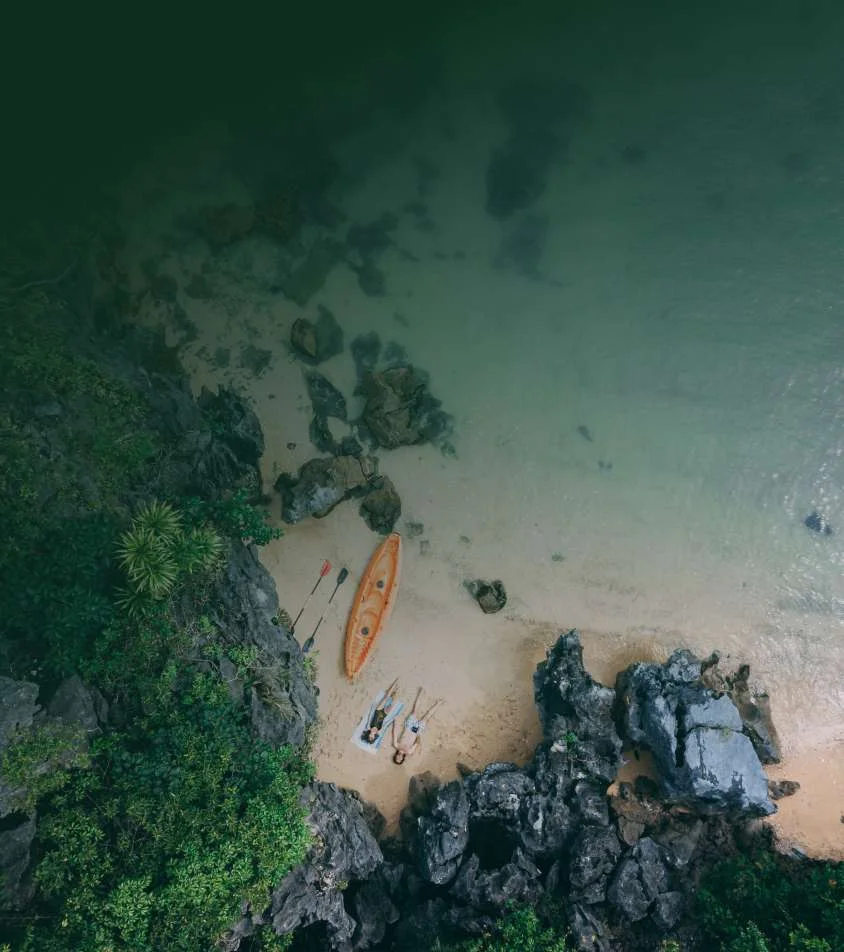 Honeymoon funds with zero-fees.
Save for your honeymoon faster
Add gifts, cash funds, and more to one registry
No fees on cash. Yes, really.
We don't take a dime, so you and your guests don't pay a dime on cash gifts and honeymoon funds.
Honeymoon Experiences
Choose from thousands of experiences.
From adventure to romance, culinary to relaxation, register for incredible experiences in top honeymoon destinations, right from the Joy Shop.
Your Universal Registry
Ask for everything you want, in one place.
Add honeymoon and cash funds, experiences, gifts, and more to your All-in-One Registry, giving your wedding guests one convenient place to shop.
The Joy Shop
Register for your honeymoon must-haves.
Explore everything you need for your honeymoon, plus top-rated gift registry essentials, to complete your wish list.
The Best Part
Your wedding registry comes with Joy.
From a beautiful wedding website and matching invites, to powerful wedding planning tools and our always-here-for-you customer support team, we've built the smarter way to plan your big day.
Save the Dates, Invites & Matching Prints
Frequently
Asked
Questions
Does Joy charge any fees on honeymoon funds and cash gifts?
Joy is a zero-fee cash registry and doesn't charge you or your guests any credit card fee, processing fees, transaction fee, or service fee on cash gifts sent through Joy cash funds.
What are the most popular types of cash funds that couples request?
The most popular types of cash funds created on Joy couples' registry sites are honeymoon funds and funds for a down payment on a house.
Guest contributions to your cash and honeymoon funds are tracked in your guest list, so you can easily see who has given you each gift and remember to thank them!
How do Joy cash funds work?
Using Joy cash funds, your wedding guests can send you money to your bank account through Venmo, PayPal, or CashApp, just like how you are used to sending money in every day life.
What are the benefits of using Joy for my registry site?
Joy is your wedding registry and so much more! Choose from hundreds of templates to create your beautiful wedding website, send wedding invitations for your big day, and use powerful planning tools. Your registry will appear on your guest-facing wedding website, giving your guests one easy place to find you the perfect gift. Be sure to include plenty of wedding gift ideas on your registry to make it easy for your gift givers to give you something you'll love in your newlywed life!
How can I customize cash funds on Joy?
Using Joy you can create a general cash fund such as "down payment" or customize cash funds for specific requests such as honeymoon flight upgrades. You can also set the 'goal amount' you hope to get for each cash gift, so that if your guests want to give a group gift they could all contribute to a cash fund to help you reach your goal.
Joy wedding websites, planning tools, registry, and online Save the Dates and invitations are free!
Do you have a support team we can reach out to if we have questions?
Absolutely! Our amazing support team works hard around the clock, every day of the week, including weekends, to make sure that your questions are answered. You can send us an email at support@withjoy.com.